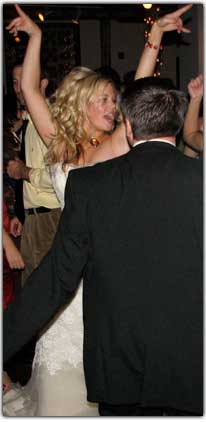 You want everything to be excellent.
Choosing the disc jockey to not only provide music for your ceremony and reception, but also to direct the flow of your event, is one of the most important decisions you'll make to ensure the success of your wedding day. You should entrust your entertainment only to a professional wedding DJ whose top priority is to help you create an amazing wedding celebration, resulting in your complete satisfaction.

Greg Sowa is not just another wedding DJ.
He's a professional entertainer who will take the time to get to know you and your fiancé so that he can help you create a wedding that reflects your personal style and leaves your guests saying that they have just been to the best wedding reception ever. DJ Greg Sowa will help you select music and plan the little details of your wedding entertainment so that your personalities are reflected.
Is your ceremony on-site and do you want to be heard?
One of the biggest concerns at the ceremony is whether or not the guests can actually hear what is being said. But, don't worry, Greg has it covered! He has an additional sound system, complete with a wireless microphone that can be easily hidden on yours or the officiant's clothing, a hand-held microphone for the readers, and even microphones for musicians, so that your guests can hear everything that is being said and played and your photos won't have big, unsightly microphones in them.

From first phone call to last dance, your wedding DJ is there.
When the big day finally arrives, you'll have peace-of-mind knowing that Greg Sowa, the same person who has been working with you for months to plan your wedding day, will personally be there to ensure that your wedding day flows smoothly and your guests have a fun time. He works with the other team members that you've selected, such as the photographer, caterer, videographer, and musicians, to ensure that everyone is on the same page and important events are happening as planned. Of course, none of the guests know this, and even you may not notice - all that you and they can see is a wedding celebration that is flowing so smoothly that they can't help but enjoy themselves.
Interested in having Greg be your wedding entertainer?
Contact him to set up a time to meet for a free no-pressure consultation where you can get to know each other and get more information on how he can help you to create the wedding celebration you're envisioning!